25th Annual Rock to Rocque Family cycle ride
28th May, 2018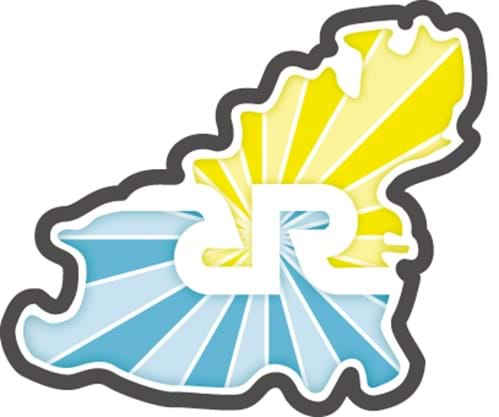 Rock to Rocque Cycle ride was on 28th May and it was a very wet ride, huge thanks to everyone who completed it and those who struggled on through the rain, we are extremely grateful for your support.
Kindly sponsored by:
This is a great family event!   The Rock to Rocque is not a race, but a family cycle which enables cyclists of all ages and abilities from 5 - 85 to take part, choosing their most suitable starting point along the route, with even an unofficial start at the Salarie Corner for the very young.  We plan to have everyone finishing at North beach for medals, certificates and refreshments.  The finish point is manned until at least 3pm and we do check the route before we close to make sure we have as many riders through the finish line as possible before we go, so there is really no rush, you can take your time.
The start was moved a few years ago to the top of the Val Des Terres to save riders having to tackle the hill at the startand to make the ride more accessible to children and families, but for those of you who want to achieve the whole ride you can cycle up the Val Des Terres before registration! 
The registration tent will be in the Field at the top of the hill, there will be a marquee so it will be easy to find.  The cycle ride will still finish on North Beach as usual. 
There will also be starting points as usual at Rocquaine and Grandes Rocque for those with less energy or less time! There are marshals around the route giving directions and we have Civil Protection helping to keep riders safe this year alongside the Marshals.
Sponsorship forms will be available in a short while, but registration is now open online by selecting 'sign up for an event' to the right of this page.
The Rock to Rocque - a Family cycle ride for all ages, with three starting points it is suitable for all abilities and it is on a Sunday with a Bank holiday the next day to recover - what more could you ask for?
We do ask that you just drop off your bikes at the top of the Val Des Terres as there is no parking, if you need to park you can do so at North Beach where you will have your car in the right place for the finish of the event.
Starting points
There are different start points available for this event:-
Top of the Val Des Terres at 08:45
Pleinmont - by Fort Grey at 09:45
Grandes Rocque - in the bus turning area at 10:45
Registration
Riders are asked to register with the marshals at the start of the event.  You are also requested this year to pay your sponsorship money in via the website, to ease administration, but if you are not able to please send a cheque payable to 'Friends of Les Bourgs Hospice LBG' to us at Les Bourgs Hospice, Andrew Mitchell House, Rue du Tertre, St Andrews, Guernsey, GY6 8SF.  If you are sending your money in after the event please remember to include a note inside advising us of your name and that your money is for the cycle ride.
REQUEST TO ALL RIDERS FOR THE EVENT:-
The use of cycle helmets is strongly recommended for all riders.
Ear phones are not to be worn by riders.
Please note that the roads will not be closed to traffic on the day of the cycle ride.  Riders should be aware that the usual rules of the traffic apply and riders do not have right of way or priority over passing traffic.
Marshals are positioned around the course for your safety only.  Please note that they do not have authority to stop the traffic for cycle riders.
Where cycle-paths are available they should be used, to ease congestion.
Les Bourgs Hospice and the organisers suggest that riders should be suitably insured.
All riders and officials take part in this event at their own risk.
The event is not a race.
Children under 11 years should be accompanied by an adult and their sponsorship forms must be signed by a parent or guardian.
We recommend that you have plenty of water with you.  Please dispose of your litter in a designated bin along the route. 
Make a Donation
Thank you very much for supporting and helping Les Bourgs Hospice. We rely 100% on your support.
Donate Now
Upcoming Events
Find out what events are coming up in our events calendar.
Find out more
Sponsor Someone
Do you have a friend raising money for Les Bourgs? Sponsor them today.
Sponsor online now