30 Bays in 30 days
1st July, 2018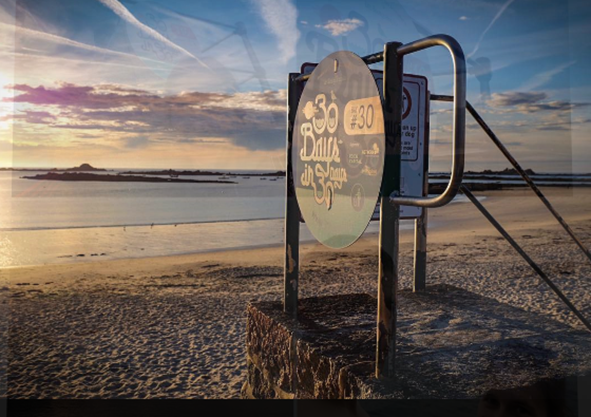 The event will run from 1st to 30th July 2018 with the concept being that in that time you swim at least 30 strokes in 30 different bays from the list whenever works for you. It is designed to be as flexible as possible so bank swims on weekends if you like, you do not have to swim every day. If you have mobility issues or unable to get to the more challenging ones you can choose which bays work for you then complete 30 swims at those instead. There will be a launch swim at Vazon on 1st July and a final  swim at Cobo on 30th July (both at 6.00pm) where  you will be abl e to hand in your sponsorship  money  and celebrate  the end of the challenge.
We are aga in having the concept of entering as a team of 6 people (incl. children). All you need to do it register as individuals then you can complete the challenge of ticking the 30 bays off between you in whichever way works best for you. For some it may mean that a core of the team swims in every bay and is occasionally joined by the other members, or, i t could be that you split the bays between you and sw im 5 bays each. You choose!  This is designed to be completely flexible for those that  don't have the time  to complete  the whole challenge individually.
New for 2018
Family event of just 9 bays in 30 days
Beach-clean option for non-swimmers in partnership with the Plastic Free Guernsey charity who are fighting to single use plastics and plastic pollution on the island.
Full details available on the Website:   www.30bays.org
This year we are proud to be supporting Plastic Free Guernsey in their fight to reduce the use of single use plastics and plastic pollution on the island (especailly on our beautiful beaches) so we will not be handing out any 30baysin30days swim caps this year but will be providing you with a 30baysin30days bag for your swim stuff which has been kindly supported by Rocq Capital (www.rocqcapital.com).  They have also arranged for everyone to have a fabric wristband to help promote the plastic free message and to help idenfity fellow swimmers on the beach and to attract people who may be willing to sponsor you for your challenge!  If you aren't swimming but have registered for the beach-clean you will be provided with a bag to collect litter in that has been kindly supported by Yakwax (www.yakwax.com).
WHERE ARE THEY?

If you haven't heard of some of these bays before or want to remind yourself how to get to them please view the 30BAYS_MAP reproduced with permission from Coast Media Design Agency, www.coast.gg.
SPECIAL OFFER FOR HERM BAYS
We have 3 days in Herm that you can either exchange for Guernsey bays or swim as optional extras.
Trident Charter Company Ltd has very generously offered to support the event again this year  with a special rate of return ticket for anyone   registered for 30baysin30days of £10 for adults   (15years+, normally £13) and £5 forchildren   (4-14 inc, normally £6.50). Special fares are subject to departure and return on the same day only (ie no period returns)and only valid for one trip to Herm per person between 1st-3 0th July 2017.   Tickets can be purchased  from the Trident  ticket office on proof of registration (either as a screen shot or print of confirmation email from Les Bourgs Hospice).Please be advised that Trident Charter Company  Ltd has no obligation to offer you the special fare ifyou cannot provide this at time of booking.
Please visit   www.traveltrident.com for sailing   times.
We have joined with the team who wrote the Guernsey Beach Guide which is a fabulous book telling you all theinformation you may need to know about   the local beaches, best tides and best and worst features and all the facilities   nearby- this is a great book to use alongsi de this event and they are donating £2.50 from each book sold to Les Bourgs Hospice if you purchase it for this event during   June and July.   We are selling it on our Website underGifts
To register for this event please click on the sign up for an event  button to the right  of this screen or download  the registration form from www.30bays.org and send it back to Trish De Carteret, Fundraising administrator, Les Bourgs Hospice, Rue du Tertre,  St Andrews, GY6 8SF. If you have further questions email 30baysin30days@gmail.com or call Liz Stonebridge  on 07781 122914
Registration costs £10 for adults and £5 for under 18 year olds, £5 for the beach clean and £20 for the family event.
Sponsorship will be available online via this website after registration - by pressing the sponsor someone button to the right of this page and it can be downloaded from  the bottom of this page. Alternatively, a sponsorship form can be downloaded from www.30bays.org.
Guernsey Community Foundation
30 Bays in 30 Days was shortlisted for the 'The Community Awards 2014′
Thanks to everyone for their support, this is a great idea and hopefully we will get a great summer to support it!
Make a Donation
Thank you very much for supporting and helping Les Bourgs Hospice. We rely 100% on your support.
Donate Now
Upcoming Events
Find out what events are coming up in our events calendar.
Find out more
Sponsor Someone
Do you have a friend raising money for Les Bourgs? Sponsor them today.
Sponsor online now