30th Birthday Dinner
9th October, 2021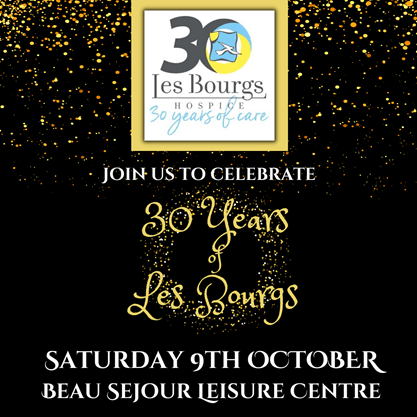 We are very excited to announce that tickets are now on sale for our 30th birthday celebratory dinner! Please email tickets@lesbourgs.com with the number that you would like to reserve and a member of our Administration Team will send you details of the menu and how you can make payment. We have tables of 10 or 12 available but you can also reserve individual tickets.
Full details are below but if you have any queries please call 251111 (Monday to Thursday 9am-1pm) or email tickets@lesbourgs.com.
We hope to see you there!
Date: Saturday 9th October 2021
Venue: Dave Ferguson Hall, Beau Sejour Leisure Centre
Time: 6.45pm 
Ticket price: £65 per person (including 3 course dinner)
Band: Episode 2
The Friends of Les Bourgs Hospice will also be drawing the winning tickets for their car lottery draw.
Make a Donation
Thank you very much for supporting and helping Les Bourgs Hospice. We rely 100% on your support.
Donate Now
Upcoming Events
Find out what events are coming up in our events calendar.
Find out more
Sponsor Someone
Do you have a friend raising money for Les Bourgs? Sponsor them today.
Sponsor online now