9baysin30days 2020
28th May, 2020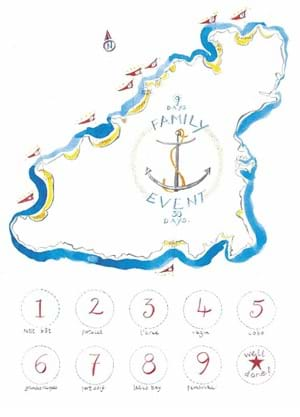 The 9baysin30days event was established as an easier and less time consuming version of the 30baysin30days event. Initially designed for those with younger families it includes those bays which are easy to access and have amenities such as toilets and a kiosk close by but it could equally be ideal for those short on time or new to the event. A free map with stickers of pirates, mermaids and beach scenes, all beautifully illustrated by talented local artist Ginny Morgan will be posted out with your registration pack (and extra copies can also be purchased if sharing is not an option!). 
We are VERY excited that our 2020 event can run BUT in order to keep our Community protected from any resurgence of Covid-19 as we emerge from lock-down there are a couple of important changes that we need to make you aware of. These are current at the time of launching the registration but we are hoping can be amended as our exit from lock-down moves to the next phase. Please check your emails for updates and www.30bays.org for all of the latest information. We know that this means that the event won't be quite the same this year but it is important to remember that we have had over 800 people sign up in the past, so as a charity we need to take responsibility for not only your safety but that of others too!
Definite change:
NO group swims to start & finish the event (we love that these have been so well supported in previous years but this does mean that the numbers are just too high to comply with Public Health measures)


Changes as at 29.05.20 that could be reviewed if social distancing measures are relaxed:
 2m social distancing will need to be maintained, even when in the water (unless you are swimming with your family) 
What is the event?
A chance to make the most of your Summer in Guernsey (especially if you would normally be travelling off-island when the schools break up) by swimming at least 30 strokes in 9 bays around the island during the month of July. You can choose to swim the bays on the list in whichever order, whenever you like. The event provides the perfect opportunity to discover new places on the island that you've never been to before and if you've taken part before we guarantee that each swim will be different depending on tide, weather, time of day or who you're swimming with.


The List
9baysin30days
Petit Bot
Portelet
L'Eree
Vazon
Cobo
Grandes Rocques
Port Soif
Ladies Bay
Pembroke
When does this start?
The challenge runs between 1st and 30th July so get signed up today! This year we will be posting out a registration pack in the week leading up to the event to provide you with all of the information that you will need.
How do I register?
You can sign up on this page through the "Register section" or download a registration form from www.30bays.org and send it back to Fundraising administrator, Les Bourgs Hospice, Rue du Tertre, St Andrews, GY6 8SF.
Family entry £25
Adult £15
Child (U18) £5


Questions?
Please email 30baysin30days@gmail.com or ring 210329
Thank you for your support!
Make a Donation
Thank you very much for supporting and helping Les Bourgs Hospice. We rely 100% on your support.
Donate Now
Upcoming Events
Find out what events are coming up in our events calendar.
Find out more
Sponsor Someone
Do you have a friend raising money for Les Bourgs? Sponsor them today.
Sponsor online now