Walk 30 ways in 30 days
1st April, 2018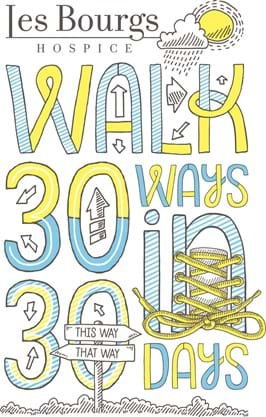 Spring into action with 30 walks in 30 days around this beautiful island during the month of April.
We are delighted this year to have the event sponsored once again by Praxis IFM.
By popular demand we are delighted to be running another sponsored spring walking event for the first of the 30 30 events for 2018.  Many people have told us that they would like to do something more suitable for those who do not fancy running, cycling or swimming so we have come up with Walk 30 ways in 30 days which is designed to encourage people to make the most of our amazing island by walking in 30 different places for 30 minutes each day from 1st until 30th April.
We are also delighted that PraqxisIFMare sponsoring this event this year to help us keep the costs down and maximise income for the Hospice.
PraxisIFM say: "PraxisIFM is proud to be associated with Les Bourgs' 30 Walks in 30 Days for a second year. Last year's event raised a record £17,138 for the Hospice which was an incredible achievement we hope to beat in 2018. We support local initiatives that improve the quality of people's lives and this month-long event achieves this in a number of ways. It raises vital funds for Les Bourgs, enabling it to continue providing care for residents of the Bailiwick who suffer from life-limiting illnesses and support their families though one of life's most difficult situations. This great scheme also encourages the community to get out and experience and appreciate the beauty of our island and the health benefits of walking.
To find out more about us visit www.praxisifm.com"
We are extremely lucky in Guernsey that we have such an amazing array of places to walk which are tranquil and stunning, from country lanes where you can walk for miles to coastal paths around the North of the island suitable for all abilities of walkers and the beautiful coastal cliff paths of the South for those with more energy, but I guess, like me, most people walk in the same places most of the time, so here is your chance to try a new area for walking. 
We have linked with the Visit Guernsey website and you can find ideas for walking on this page by following this link: www.visitguernsey.com/blog/great-coastal-walks-guernsey and they also have a Heritage walking activity running for most of April which includes guided walks for those who would like to walk and learn, find more information at: http://www.visitguernsey.com/heritage-festival and of course they also link to 'tasty walks' where each walk leads you to a place of refreshment and rest during or after the walk, so great to do with friends and children. www.visitguernsey.com/tasty-walks
We ask that people register by pressing the 'sign up for an event' tag to the right of this screen and when registered people will automatically be registered to collect sponsorship online.  As with other events you can 'bank' walks but walking for more than 30 minutes each day then missing a day if you need to do so, fit the walks around your busy lives, but what a great way to enjoy the spring each day for 30 minutes by walking to raise money for the Hospice.
This year the T-shirt is a refreshing white.
Make a Donation
Thank you very much for supporting and helping Les Bourgs Hospice. We rely 100% on your support.
Donate Now
Upcoming Events
Find out what events are coming up in our events calendar.
Find out more
Sponsor Someone
Do you have a friend raising money for Les Bourgs? Sponsor them today.
Sponsor online now