Walk 30 ways in 30 days
1st April, 2019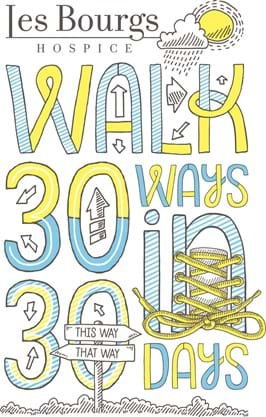 April will be the launch of our first 30 in 30 event for 2019.  The Walk 30 Ways in 30 Days event is in its 5th year and is suitable for just about anyone to take part in.  Last year we had everyone from people in wheelchairs to avid walkers and even a dog taking part in his very own T-shirt!
The event starts on 1st April and finishes on 30th April and what we ask you to do is to try to walk for 30 minutes each day for 30 days.  You can go as far or as short as you want to and anywhere you like to walk is fine, but the aim is to challenge yourself to find 30 minutes most days (it is OK to 'bank' walks one day and do none the next if you need to do so) and to get out there and enjoy the spring flowers, longer light evenings and have some time to relax while supporting Les Bourgs Hospice.  Walk with friends, family or pets or just alone for some time to yourself, it is totally your choice.
The event usually finishes with a final walk and a snack at a local hotel where we can get together with other walkers and share experiences and we can say Thank you for your support.
Registration is now open for this event.
Make a Donation
Thank you very much for supporting and helping Les Bourgs Hospice. We rely 100% on your support.
Donate Now
Upcoming Events
Find out what events are coming up in our events calendar.
Find out more
Sponsor Someone
Do you have a friend raising money for Les Bourgs? Sponsor them today.
Sponsor online now