Gift Ideas
In the hospice reception area not only will you find the items we sell on our online store, but also handmade gifts carefully crafted by our day hospice group. Here you will find a selection of colourfully hand painted silk scarves, glasses cases, jewellery, and other interesting items. The display constantly changes and make wonderful locally made presents for you to give to friends and family. We also have regular raffles running in our reception so you may get some great prizes by just coming in for a visit. You can visit the reception to purchase goods Monday to Friday from 0900hrs until 1700hrs and you are very welcome to come in at any time between those hours. So, the next time you are passing by then why not come on in and take a look!
Should you wish to purchase any of the following items please email liz.stonebridge@lesbourgs.com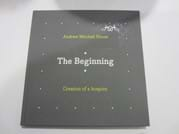 Book - The Beginning
This beautiful hard backed book was written to celebrate the old hospice and to create a lasting and fascinating record of how the hospice began in Guernsey.
The book contains stories and memories from the staff who were employed at the start and also a fascinating story about how the building was identified as being perfect for a Hospice.  The determination of these staff, volunteers and obviously the founders come across very clearly and this is a great book to read and keep.
The book was developed by Lisa and Greville Mitchell OBE and the forward is written by them. The book  shows the vision Lisa and Greville had when they arrived in Guernsey and the circumstances around them deciding to set up a Hospice and how that vision became a reality.
This book has been updated to include a printed banner with updated photos of the Hospice.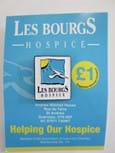 Pin Badge
These tasteful pin badges look great on coats and jumpers to show that you have supported Les Bourgs Hospice.  They are safe, secure and strong and the pin is small enough that it does not damage most clothes.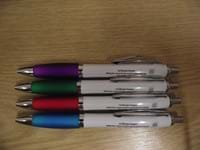 White Curvy Ballpens
These cheap and cheerful pens are reliable, versatile and look really great wherever you use them.  These pens are in four great colours, Purple, Green, Blue and Red.  The have the Les Bourgs Hospice contact information printed onto each one.  The ends are padded to make writing more comfortable and they are chunkier than our other pens.
White Curvy Ballpens Various Colours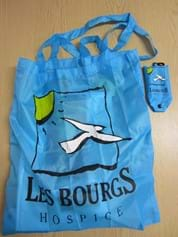 Lightweight bag in pouch
These handy bags are useful for attaching to your belt, handbag or purse for use when you forget to take your bags with you or when you buy more in the shop than you intended.  The bag is stored in an easy to re-pack fabric pouch and open up to a large carrier bag which is strong enough for general shopping.  While using this you will be able to be proud of the fact that you supported Les Bourgs Hospice as the logo is tastefully displayed on both sides.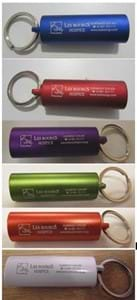 Keyring LED Torch
LED Keyring Torch in various colours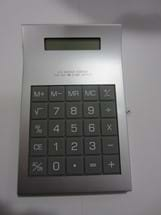 Calculator
This battery operated calculator is a useful addition to any office, home or car.  The calculator is small enough to be easily stored, the numbers are big enough to be able to be pressed by all ages of people and beacuse it is battery operated rather than solar powered it will work anywhere.
The calculator has Les Bourgs Hospice and its contact details tastefully engraved on the front.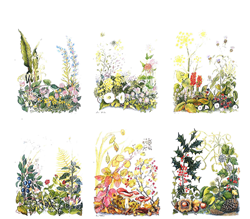 Notelets by Jean Walker
These beautiful notelets have been designed using original watercolours painted by Jean Walker during her treatment.   She has sadly passed away but her family have donated the Artwork for us to use to raise money for the Hospice.  These cards are blank inside and each pack contains six different cards, we have packaged them January to June and also July to December, to get all pictures you need to purchase both packs.  Self seal envelopes are included.
Jean Walker Notelets 1 packet
Jean Walker Notelets January to December (2 packets)
Two packs of notelets containing all 12 paintings
Les Bourgs Hospice Cook Book
This beautiful cookery book is plastic coated to keep it looking great while in use, the pages are wipe-able, the book is spiral bound so it stays open and the recipes are great.  The book also has helpful cooking tips, conversion charts and is fully indexed.
We have over 65 recipes in the book including 13 starters, 18 main courses, 15 deserts and 2 drinks and also if you look at the sponsors adverts there are even a few extra recipes to try slipped in with the advert!
This will make a great gift for anyone, it includes a large selection of Guernsey recipes from staff, supporters and local people including many recipes from Tony Leck at The Pavilion.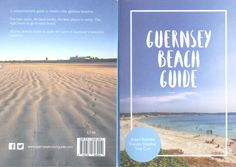 Guernsey Beach Guide
This beach guide was written by Adam Bayfield, Gordon MacRae and Tony Curr in 2014 and describes 27 bays around Guernsey, it tells you when it is best to swim there, what facilities are nearby, what the bays worst and best features are and also has a great description of the bay itself.  This is a perfect accompaniment to the 30 bays in 30 days event.  The writers will kindly doante £2.50 to Les Bourgs Hospice for each copy sold via our website or at the launch Event.
Make a Donation
Thank you very much for supporting and helping Les Bourgs Hospice. We rely 100% on your support.
Donate Now
Upcoming Events
Find out what events are coming up in our events calendar.
Find out more
Sponsor Someone
Do you have a friend raising money for Les Bourgs? Sponsor them today.
Sponsor online now