Visitor Information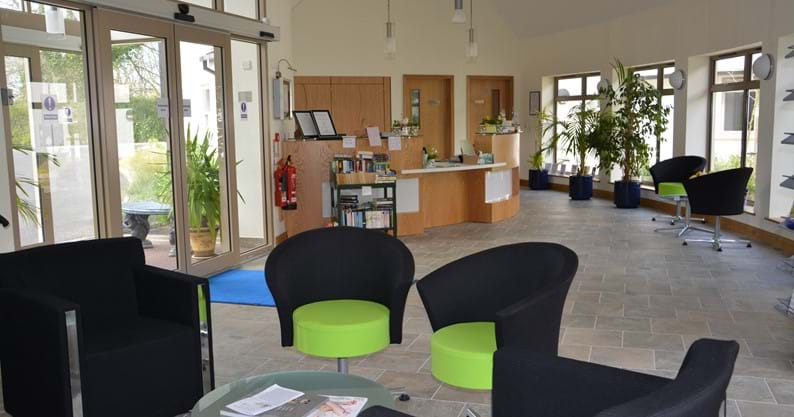 22/01/2021 - PLEASE NOTE - we are restricting visitors to our inpatient unit to CLOSE Family Members only until further notice.
Visiting hours at Les Bourgs Hospice are flexible depending on your wishes and condition and these can be discussed with our nursing staff.   If possible, try not to visit at meal times, if you arrive at meal times please check with the nursing staff before visiting a patient.  Visitors are asked to notify staff when arriving and leaving and to sign in and out of the visitor's book on reception. If they would like to call you they should use the main telephone line 251111 and they will be put through. 
We do ask that you do not visit the Hospice if you have been or are currently unwell without speaking to us first. 
If you visit out of our Reception hours you will need to press the bell inside the porch to gain access to the building.  Please be patient if this is not answered immediately as it will mean the staff are busy with the patients and will come to you as soon as they can.
If your treatment allows it is possible to arrange for your family or friends to take you out for a few hours during the day—this can be arranged with your nurse who will advise on the best time.
Children are also welcome to visit if accompanied by an adult. Care needs to be taken near the pond if they go into the garden.
If family pets come to visit, please arrange visits with the nurse in charge and ensure that dogs are kept on a lead at all times.
Refreshments are available to visitors and there is a tea and coffee making area in the sitting room where visitors can prepare drinks and they can also store food and snacks in a dedicated fridge. If  visitors wish to bring in food they can do so, we will try to arrange any heating that is required, but this will depend upon staff availability, so cold food is better if possible. We can also offer Food from Friends, which is made for visitors by volunteers, and this usually comprises of soup and deserts, please ask what is available.
Please note that Les Bourgs Hospice does not allow visitors to smoke on the premises.
We are delighted for you to bring flowers into the Hospice for your relatives and friends but we do ask that you refrain from bringing in strongly scented flowers as they can be overpowering in the bedrooms and so many people are allergic to the scent.
Wi-Fi is available throughout the building.  Books, puzzles and games are also available upon request and we have games for children if required.
Parking is available at the front of the building on the Rue du Tertre entrance.
Les Bourgs Hospice is served by Bus Route:
61 - which runs from Town to Pleinmont daily
62 -  which runs from Town to the Airport Monday to Saturday
P2  - which runs from St Sampsons Monday to Saturday.
For times please contact the Bus Station on 700456 or click here
If you wish to celebrate a special occasion or if you have a large number of guests and wish to eat together it may be possible to have a Take Away meal in our Day Room with prior arrangement of the staff. This area has a dining table and a seating area where groups of visitors can celebrate within the Hospice with the patient.
Make a Donation
Thank you very much for supporting and helping Les Bourgs Hospice. We rely 100% on your support.
Donate Now
Upcoming Events
Find out what events are coming up in our events calendar.
Find out more
Sponsor Someone
Do you have a friend raising money for Les Bourgs? Sponsor them today.
Sponsor online now