In-Patient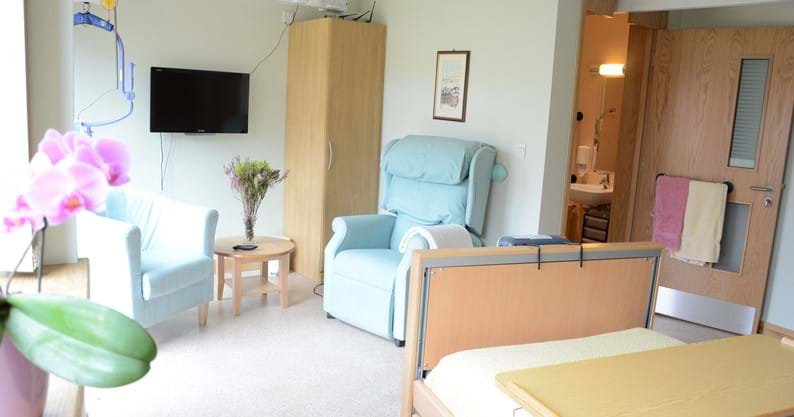 'The care received was utterly fantastic, she was treated with such respect and warmth, brushing her hair for her while she slept, turning her bed around so she could see the birds in the garden, all those little things that somebody went above and beyond to do, and of course ensuring her final wish to go home was fulfilled, the whole thing has just left me totally lost for the right words to describe how amazing I think you are'
Quote from a Grandaughter
The Unit
Les Bourgs Hospice has seven fully fitted single bedrooms for patients.  These each come with en-suite bathrooms, private outside patio areas overlooking the gardens and a seating area.  The rooms are airy and light; all have a television, Wi-Fi, telephone and a call bell system available. 
There is a lounge for relatives and visitors to use, where there are tea and coffee facilities available. The lounge also has two sofa beds which can be used by relatives who wish to stay close to their loved ones.
We strive to create a relaxing and homely atmosphere and hope patients and families will soon feel this too.
Staffing
We have a highly experienced and specialist team of nurses, working in partnership with community services and the Princess Elizabeth Hospital  to ensure that we not only meet your nursing needs during your stay but also provide a smooth transition when discharged home or to other areas of care.
The hospice is staffed with trained nurses and auxiliary staff 24 hours a day. Other specialities such as Occupational Therapy, Physical Therapy and Social Workers, will come to the hospice at our request to assist patients' and their families.  During a patients stay their medical needs are the responsibility of their General Practitioner and they will be charged accordingly for visits.
Meals
All meals are provided during a patients stay. Patients are offered breakfast on waking and then a cooked lunch from a menu that changes each day.  Volunteers prepare the suppers which can be adapted to suit each patients' needs.  Refreshments are also available throughout the day. Should patients have any special requirements or certain favourite foods, these can be brought in from home and we can store them in the patients' fridge.
Meeting Care Needs
People are admitted to the hospice for a variety of reasons, which can be generally divided into three groups, respite, symptom control and end-of-life care.
Respite
We offer respite stays of 1 - 2 weeks to enable families/carers and for patients who live alone a chance to rest.  Respite stays have also proved useful for patients post chemotherapy and can help to reduce anxiety. Utilising respite regularly can enable patients to remain at home for longer.
Symptom Control
We offer stays to assist with the management of unwanted symptoms, such as pain and nausea and vomiting. Sometimes it is not possible for these to be managed effectively at home as patients may need full assessment and monitoring. Our nurses are skilled in managing these symptoms and can, in partnership with the patient, help to alleviate symptoms and improve quality of life. 
End-of-Life Care
We are here for patients and their families when End-of-Life is imminent. Our focus is on patient comfort and our staff are always available to talk with patients and their family. Although we cannot change the situation it may be of comfort to know that the hospice continue to provide support to families after death  and offer bereavement telephone calls and have also introduced a bereavement coffee evening, where families have the chance to come together for group discussion and support.
Referrals
Referral to the hospice is usually made by the GP, Palliative Care nurse or other health professional but we are happy to discuss admission with anyone who may need us and a visit to the hospice can be arranged. Please contact the Nurse in Charge on 251111.
Referral forms required to admit a patient to Les Bourgs Hospice as an In-Patient or for Day Hospice care. 
Download the referral form here.
Private Health Insurance
Many private health care schemes will make an 'ex-gratia' payment to Les Bourgs Hospice for in-patient care and if you would like us to help you apply for this please speak to a member of our administration team.   It may also be possible, if you have Private Health Insurance, to claim agains this for any costs which you may incur while you are an In Patient at Les Bourgs Hospice, please contact your insurance supplier for details of what is available.
Costs
All of our in-patient Unit services are offered free of charge in line with all our other services, however, all donations are gratefully received as we rely on donations to fund the care we offer.  If you usually pay for GP visits or if you take advantage of other Health care services while you are with us, such a Chiropody, you will be charged for these as normal.
Make a Donation
Thank you very much for supporting and helping Les Bourgs Hospice. We rely 100% on your support.
Donate Now
Upcoming Events
Find out what events are coming up in our events calendar.
Find out more
Sponsor Someone
Do you have a friend raising money for Les Bourgs? Sponsor them today.
Sponsor online now